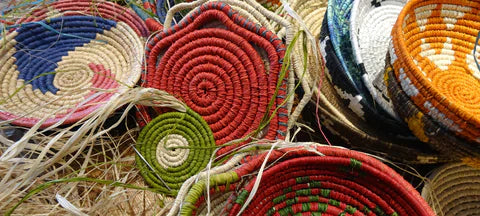 Is Your Easter Basket Organic?
Written by chad owen
Unless you've been living under a rock, you know that plastic is not what it used to be, and going organic is the new black. Well, Easter Baskets are no different.
Healthier for the environment and for your wallet, we now have amazing plastic alternatives available like organic, all-natural Raffia.
What is Raffia?
Raffia is real grass from African Trees and has been used to decorate and craft for decades... you just didn't know it. Those lovely bows tied around mason jars? Raffia. Dreamcatchers? Hula Skirts? Trendy Espadrilles? You get my point.
Not only is Raffia organic, it's soft, durable, and won't break the bank. 
How do I use Raffia?
Raffia is used in many different ways, and comes in plenty of colors. From basket fillers, household decorations, and giftwrapping, to shoe, basket, and hatmaking, raffia has endless uses for DIY projects (see tutorials here).
Joseph Stern is the largest importer of raffia in the USA, and has the best prices and color options on the market. Joseph Stern offers a wonderful seasonal starter pack for those who want a little of each raffia type, and a Premium Raffia option that we *treat* to make the raffia softer (and flameproof!). 
The goal is to craft a basket that's so beautiful that your friends and family will want to re-use it for years to come... make sure it's organic!